In 1974 my business was a small one-person operation mostly carried out on a treadle sewing table in a one-room house (no electricity, no plumbing) producing an original and rather simplistic folk art style doll made with porcelain. Since those early days, I have devoted much of my attention to the details and accessories of those dolls, creating a much larger scope of techniques, products and supplies than those just for dollmaking. In 1981, after a dream which changed my business dramatically, I began to put these skills together to produce kits - kits with integrity and quality. This began with a simple kit to make a tiny felt bear which later grew into the Basic Bear Series, a series of kits to make the bears, their clothes, their furniture and accessories. The old sewing table became a memory and the business of kits really caught on.
During all this time I have always maintained the design and production of my finished things as well. For many years this consisted of only my porcelain dolls, (click here to see porcelain dolls) but gradually I added in accessories for them as it is actually more fun for me to do these than the dolls themselves. In fact, I have always had trouble seeing myself as a dollmaker and instead see what I do as a combination engineer- craftsperson. And as you might expect, all of the accessory making eventually led to the ultimate gathering of accessories into one project which became a large dollhouse in my best 8" doll scale (in other words, not the regular small dollhouse).
I would say that aside from the pressures of earning a living, that the thing that has kept my work within the theme of dolls is my love for Early American antiques and the many wonderful dolls who live in museums and books that have really touched my heart with their warmth and charm that somehow only seems to shine through very rare contemporary dolls made by people who either unconsciously or intentionally are able to do this. With the antique dolls, it is often a basic humble handmade style which combines with the patina of age given by many years of caring hands, that accomplishes this so that I see it as a real challenge to make it happen today without those advantages. Dolls for me do not have to look old to have this dearness, even though I do work with my own distressing techniques on some of my cloth dolls to take advantage of this look - in fact, it is easier to get there with this look if you can properly achieve it, so I do think it is harder to get "heart" into a doll without these tricks. Although I did not know it in the beginning, I think my main body of work in dolls which is my porcelain ones, has been fortunate to have this quality - this appeal to the heart - which I attribute to my having designed them in a vacuum with no research and no prior connection to the doll world other than as a child, and importantly, at a time when dollmaking was still asleep as a craft, so that I was not influenced by anything other than my inner self. Since I view myself as primarily a craftsperson (as opposed to a dollmaker), the making of furniture and other accessories fits right in and I find that the same qualities that appeal to me about old dolls is also true of furniture, quilts and other early accessories and that is that the folk art, humble, simple-materials-simple-techniques part that makes me want to either have it all to admire every day or make it. It is not something I have a choice about.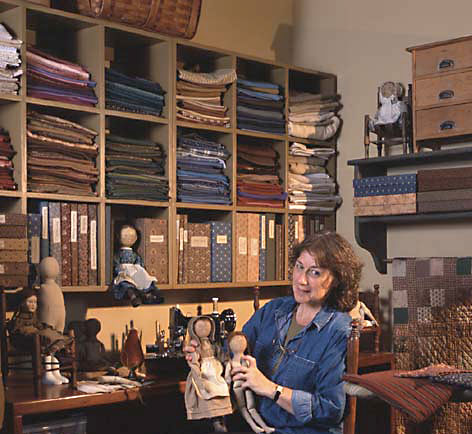 A rather staged picture taken by the Boston Globe for an article - taken in my workroom of my house.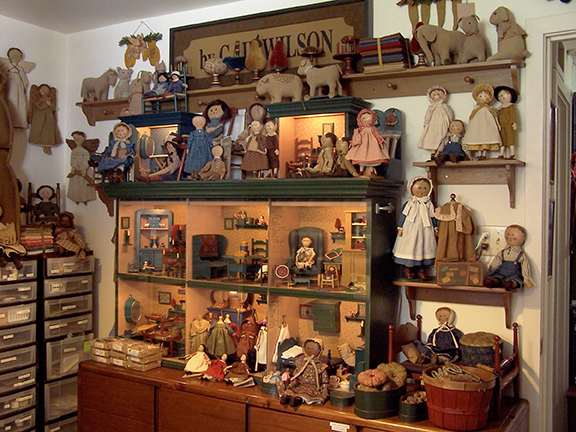 Another picture by the Boston Globe of a display area in my workshop (which is not a "shop").
A Note written in early 2010 after a cancer scare...
I am not going out of business! I have been trying for several years to find a way to do what I love to do and really to provide more of what you have come here to find instead of spending the majority of my waking hours administrating stuff and well, administrating a business. Recently, trends in the economy (I need not waste words on this tired subject) and then a health scare with cancer have repainted my priorities. Much as I prayed for a clear cut lightening bolt of a plan, none really materialized, so I am much like a traveler striking out into unknown territory with some heavy fog. And like fog behaves where you get glimpses of clarity now and again, I know some things clearly but most is not so clear.
One is that I cannot go forward economically by continuously adding to my inventory of what I make and sell and have it always available. It is simply too much stuff. And the older some of my products are, the harder it is to find replacements for all of the many fabrics and supplies they contain when manufacturers stop selling the materials. So, the place to start was to get rid of older kits. Then, so as not to end up in the same place, but to continue designing kits and patterns, I will only be doing limited edition kits in the future. Maybe one or two per year - I will purchase an initial amount of supplies for these new kits, then when those disappear, the kit will be retired. I will maintain any patterns that I already have since these do not require much beyond the simple printing process which we now do ourselves due to the benefits of state of the art computers and equipment, as opposed to high volume printing done by a print shop. Hitty and all of not only her present long list of clothes, furniture, and accessories will be maintained far into the future but I will have more time to devote to providing new things for this most beloved doll. I will continue to teach in live classes and online classes. I hope to make use of most of my old kits and repurposing them into patterns or booklets of series of projects. Occasionally, I may bring out a reworked kit from the past or make some finished items to sell in what I project to be quarterly email-announced mini market days. But the final and most important part is that I will at last return to where I began in 1974, by making dolls from my heart using all the skills and knowledge acquired over almost 36 years of full-time dollmaking. I hope to be making dolls that will never be sold as kits with the freedom that that will make not to have to consider each step as if someone else, not me, would have to be told how to make it. These I will also sell perhaps through the many shops and galleries that have been asking for years or perhaps through email announcements. That is the Idea as it is now. I am turning 60 this spring (2010), so I am wise enough to know now that what is more likely is Plan B. But, what is for sure is that I will not retire (can't) nor will I stop making dolls and the way the world is so now committed to the world of computers and the internet, I will maintain this website for a long time.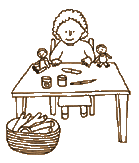 The drawing above is from Goldie the Dollmaker, a book I found (now out of print) in 1978, which was surprisingly also my own story.

My garden - a small bit of one of them.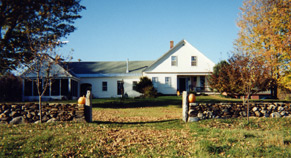 An older picture of our 1804 farmhouse looking south with a view of mountains from our own hill. The center part of the house was the original house built before 1795. This land was part of a tract deeded to one Samuel Bowdoin of the college of the same name. We now are proud to have installed solar panels in the field from which this photo was taken.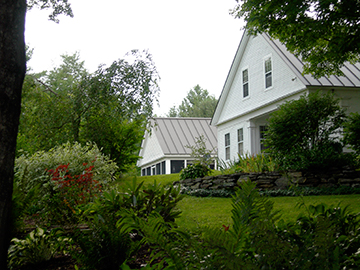 A newer picture with gardens and stonework we did.


Before automobiles when our house was a horse farm with many barns. No barns survived the hurricane of 1936.

And I can drive a tractor too! Here I am helping my husband pick some high up plums.