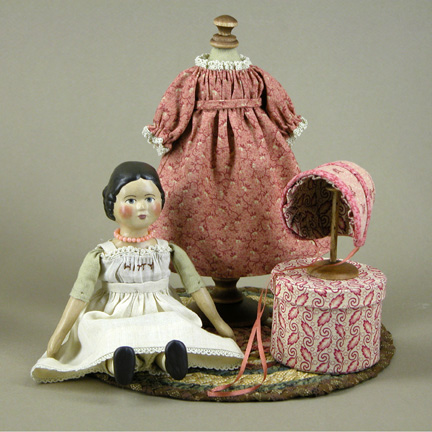 HITTY CAMISOLE PATTERN ~ I have made available a free downloadable pattern with instructions for the camisole shown above.All other underwear and dress is in the Hitty Kit, but the camisole is not. This document is in Adobe Acrobat Reader PDF format which is on most computers. Click on this link to print pattern.
http://www.gailwilsondesigns.com/extras/HittyCamisole.pdf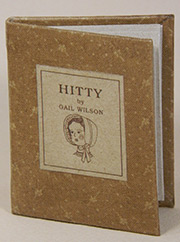 Hitty's Handmade Book (1-3/4" x 2-1/4")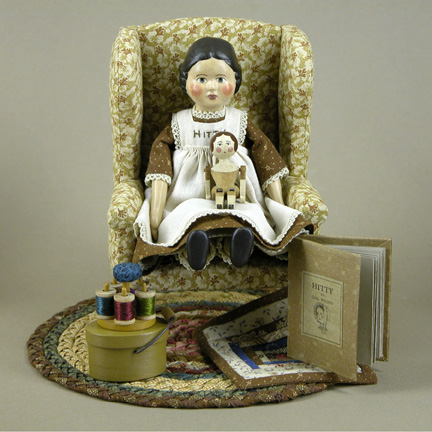 The Peg Wooden in this Picture has been replaced with Hitty's own Peg Wooden
Scroll down for new picture.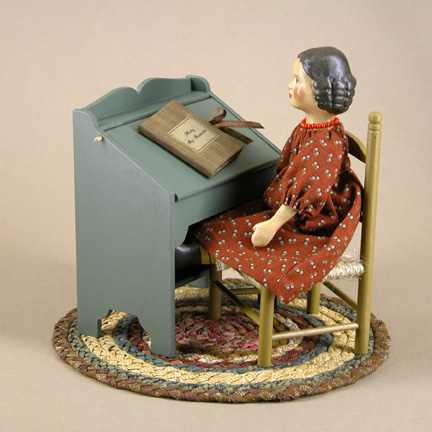 Hitty sitting at her Secretary (in her Ladderback Chair) with her Diary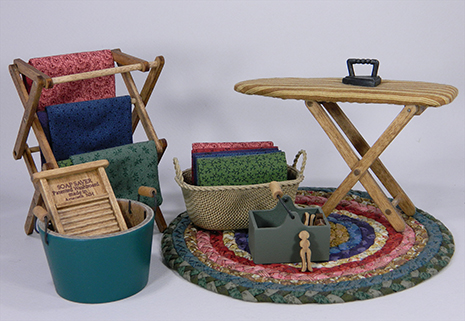 Hitty's Laundry Set and Ironing Board Set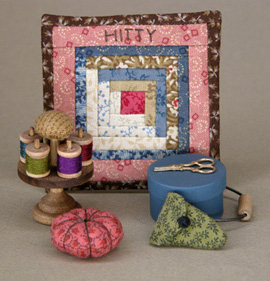 Hitty's Sewing Set (Spoolrack is 1-1/2" tall, Quilt is 2-1/2" square)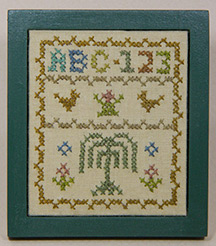 Hitty's Sampler (2-1/4" x 2-3/4")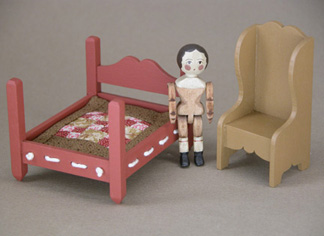 Hitty's Own Peg Wooden Doll (2" tall) and Her Tiny Bed, Quilt and Chair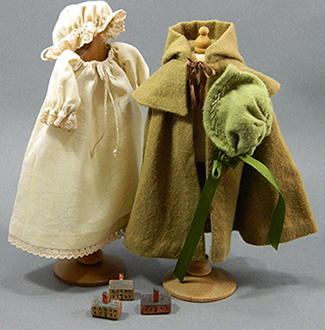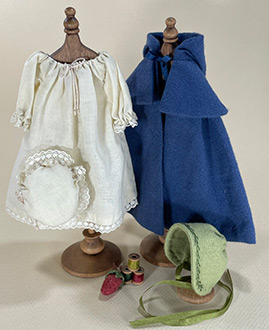 Hitty's Nightgown, Nightcap, Cape and winter bonnet
In the left photo the Cape is shown in tan. This fabric is now unavailable. The color is now dark blue as in the right photo.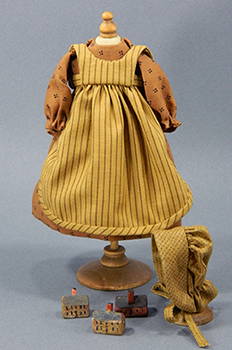 Hittys Country Outfit with Bonnet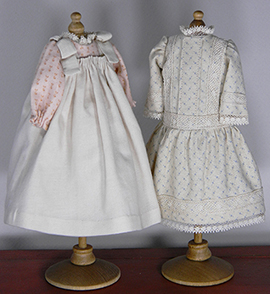 Hitty's Two Best Dresses - Left is Pini Over Dress and Right is Drop -Waist Dress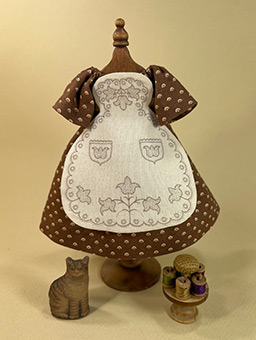 Hitty's Izannah Walker Outfit with Printed 1800's Apron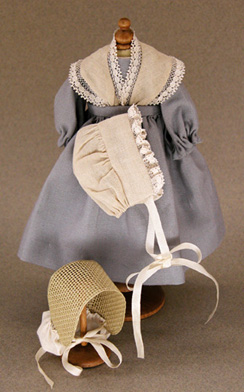 Hitty's Quaker Outfit and Cap with Straw Bonnet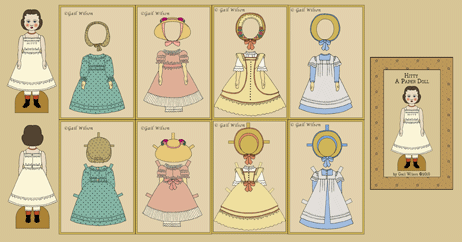 Hitty's Own Tiny Paper Doll Set
(Comes with wood backed two-sided paper doll, 4 two-sided outfits and a tiny matchbox
for storage with printed label lid).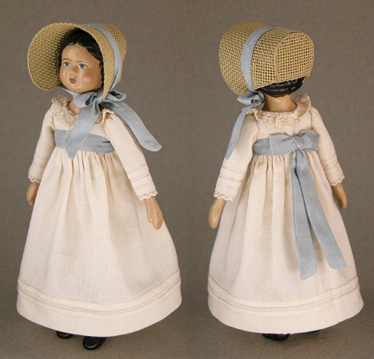 Hitty's Jane Austen Outfit
(Comes with gown, petticoat, pantalets, bonnet)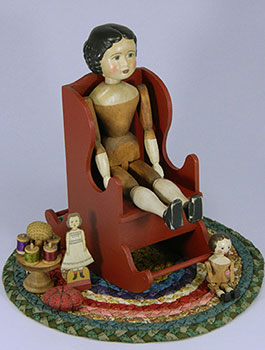 Hitty's Wooden Rocking Chair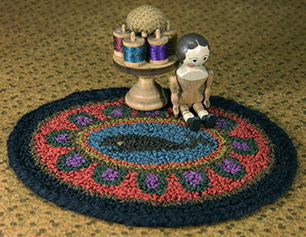 Hitty's Punch Needle Whale Rug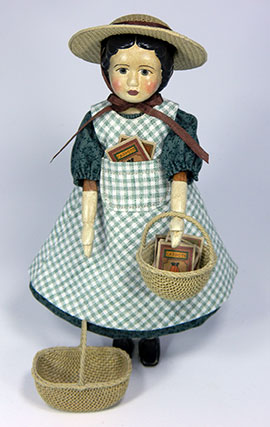 Hitty's Gardening Set with Pinafore, Straw Hat, Two Baskets and Seed Packages.
NOTE: Dress to match available separately.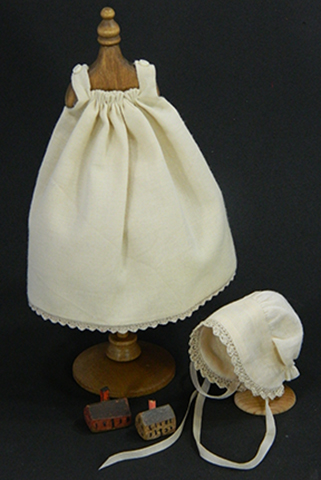 Hitty's Pini and Bonnet Set made with hand crocheted Lace.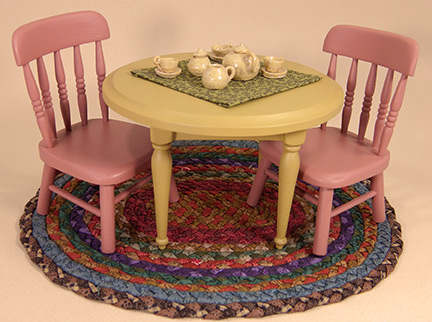 Shown above are Hitty's Spindle-Back Chairs at her Round Table. Yellow Ware Tea Set
on the table is available separately. Later the set will include Tiny Hitty's High Chair.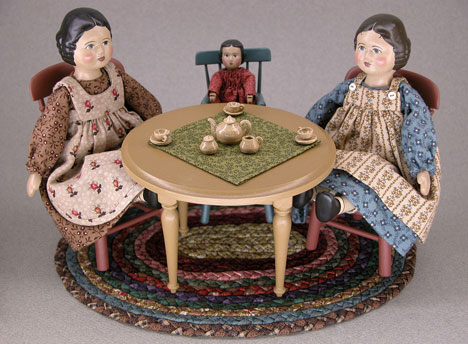 Above the two Hittys are wearing what we call the Tea Party Outfits in Original Colors
Additional colors available on page 4 of the Hitty Clothing link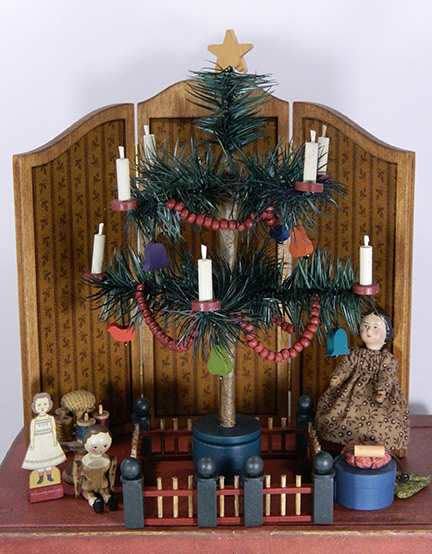 Hitty's Decorated Feather Tree and Fence Set shown in front of her Folding Screen.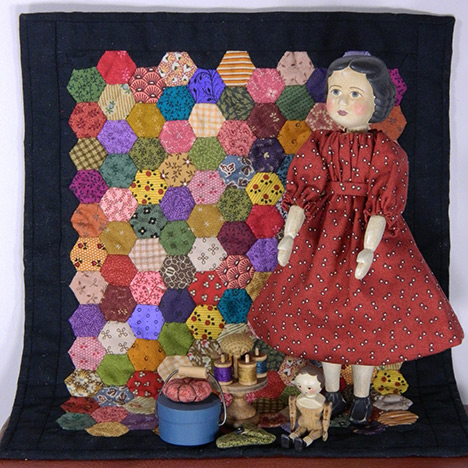 Hitty's Winter Quilt - Available as a kit and fits Hitty's Bed.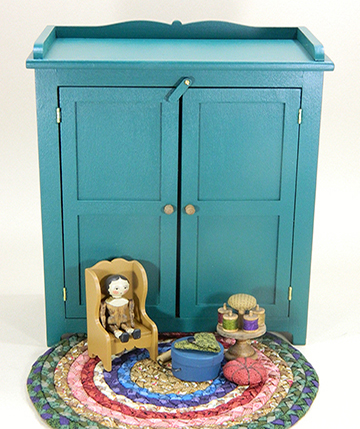 Above and Below is Hitty's Cupboard-Wardrobe
which comes with a set of 6 coathangers.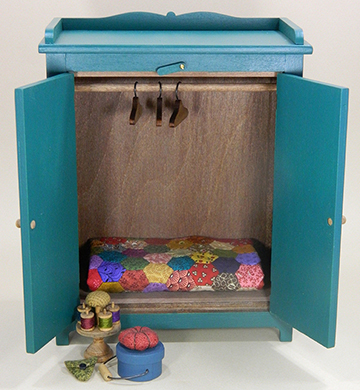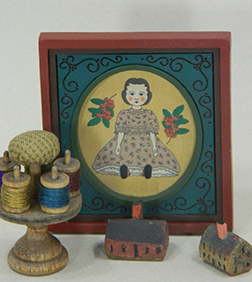 Hitty's Daguerreotype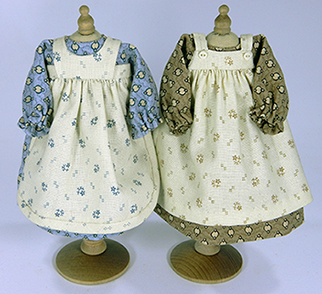 The Hitty Tea Party Outfits in New Colors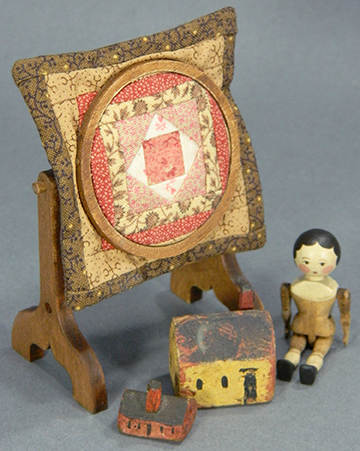 Hitty's Quilt Frame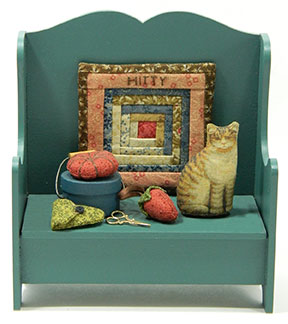 Hitty's Printed Cat shown on Bench
Cat is 1.5" tall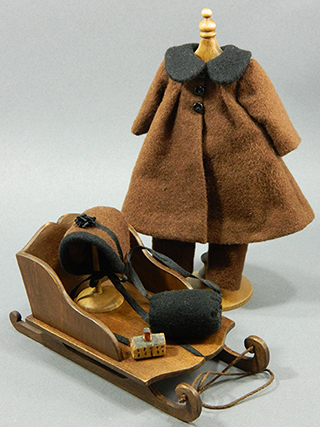 Hittys Winter Outfit (4 pieces) shown with her wooden sled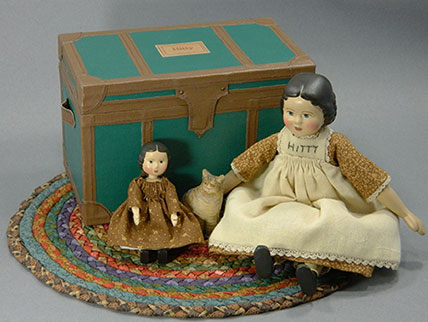 Above - Hitty's Trunk Shown in Original Colors and Colors in Kit
Below - Finished Trunk in new color scheme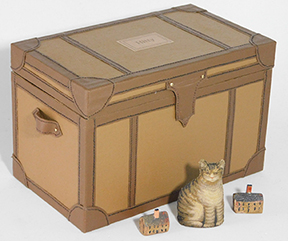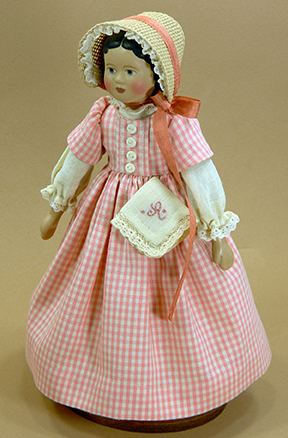 Hitty in her Annabelle Outfit (5 pieces - Bonnet, Hankie, Overdress, Underdress, Pantalets)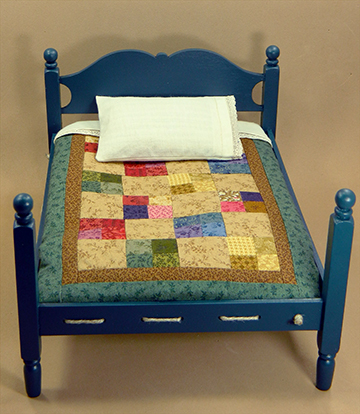 A shorter (in height) bed has been added for Hitty. Note it has a different color scheme.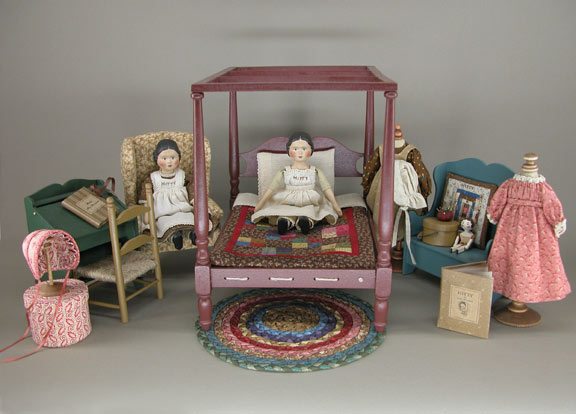 The Original Series ~ Much more has been added.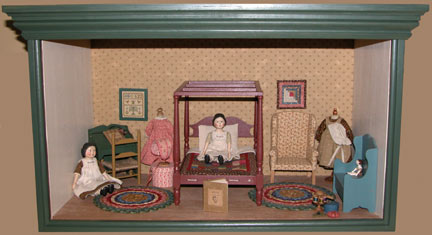 Hitty's House has lift off lid, lift out glass front and interior lighting.