MY TINY PAPER DOLL SERIES
TINY FASHION PAPER DOLL
These are the first in a series of tiny paper dolls. This one is my Fashion Doll and is 2-1/2" in her wooden stand. The dolls and clothing have fronts and backs and the dolls themselves are laminated onto wooden backings cut exactly to their shapes. Tiny envelopes come with them to hold their three outfits and accessories plus there is a tiny box to hold all. Although meant to be display items with the clothing left uncut, outfits will fit if cut out. Instructions included and kit has all supplies.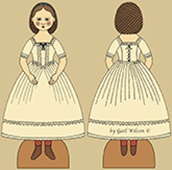 Fashion Doll Paperdoll
Finished Set - $30 Add to Cart
Kit $18 Add to Cart
HITTY PAPER DOLL
This version of Hitty is only 1-3/4" tall, has front and back applied to a wooden cut-out and a painted wooden stand. She has 4 outfits with front and back views and comes in a tiny matchbox.


Hitty Paper Doll
Finished $30 Add to Cart
Kit $18 Add to Cart
GINNY DOLL PAPERDOLL FOR YOUR DOLLS This set was originally used as an accessory for the 1950's theme doll representing me in first grade (1956) that I did for UFDC and now is made its own item and number 3 in my doll size paperdoll series.The Set comes in a tiny gift box (pictured is the cover of the tiny box) with Ginny made as a front and back paperdoll mounted on a thin wood silhouette with a painted wooden base to stand on her own. Tiny envelopes come with them to hold their three outfits which although are meant to be display items with the clothing left uncut, the outfits will fit if cut out. Finished only $30 Add to Cart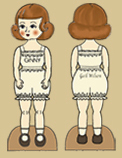 COMING NEXT ~ Izannah Walker Paperdolls