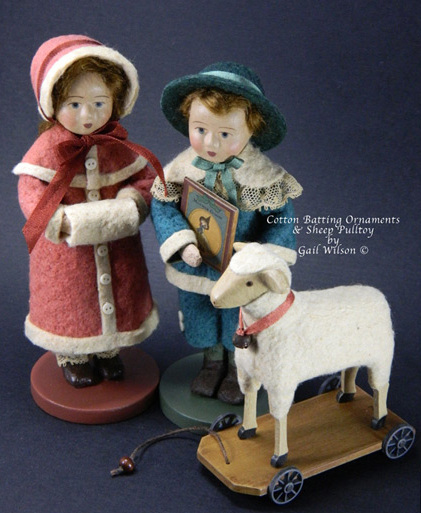 CHRISTMAS CHILDREN
Shown above are two Christmas Children 5" tall. These are made with simple heads (will also be available separately), and all cotton batting bodies (have pipe cleaner base bodies) and clothing. No sewing, only cut the expertly designed patterns, glue a few seams together, glue on trims and optionally glue to included bases or apply hang loops. These are just the first two. Later will be Santas, angels, snowmen, and more figures and animals too. Complete kits with trimmings and accessories will be available or purchase the patterns and molded heads and supply your own dyed batting (dye with Rit with instructions in patterns - easy).
Finished Sets $198 per set. No longer available finished

Kits for boy and girl set $85. Add to Cart
Patterns & Instructions Only (order heads separately) $18. Add to Cart
Extra Heads $7.50 (set 2 heads) Add to Cart
Extra Heads $4.75 (1 head) Add to Cart
Prepainting by GW (does not include the heads) $12 each Add to Cart
or $20 (Set Two) Add to Cart
Note: It is recommended in the kit to have a package of 5 Tiny Dollmaking Clamps (See Supplies page for more info) $5 Add to Cart



Tiny Dollmaking Clamp

SHEEP PULLTOY
Sheep is modeled after my extensive collection of antique sheep like him. I was inspired long ago to collect these because our little historic town library has a huge and wonderful similar collection on display in honor of Acworth, NH, being a real sheep town having produced more wool for Civil War uniforms than any other single place. Until very recently, there could always be seen several hundred sheep grazing around town. I always had about 4-6 of my own. The little pulltoy has a molded body, tiny metal wheels, a bell and the rest is precut wood parts that assemble easily. All materials are included in the kit with extra parts available for those liking to add this little guy to their dolls or Santas as accessories.

Kits for Sheep $78. Add to Cart
Extra Molded Sheep Bodies, pre-cut wood legs, wooden base, metal wheels, nails and bell $38. Add to Cart
Finished Sheep $98 No longer available finished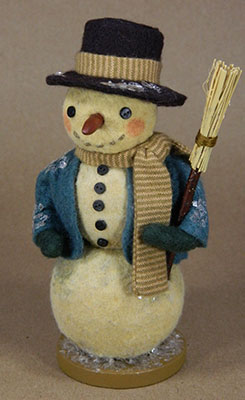 Cotton Batting Character - 5" Snowman

THE SNOWMAN - Another in the growing series of cotton batting characters. About 5" tall with button eyes, carrot nose, stitched mouth, bendable arms to hold his real broom. Kit comes with all supplies including hand dyed cotton battings, paints for nose and base, all trims, stand and real vintage mica flakes for some winter sparkle.

SnowMan Kit $68 Add to Cart
SnowMan Finished $98 Sold Out
Extra Styrofoam Pre-shaped Balls (2 sets) $6.95 Add to Cart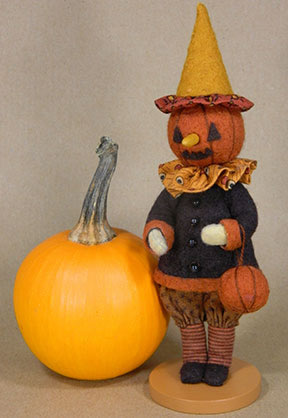 (6-1/2" Tall PumpkinMan ~ A Cotton Batting Kit or Finished)
Tiny real pumpkin (3" diameter) is one from our gardens.
THE PUMPKIN MAN - The PumpkinMan and a Snowman were cotton batting characters originally taught at two workshops at the R John Wright Convention. Kits are easy to make - the whole process is mostly gluing (a tiny bit of easy sewing). All cotton battings are prehand dyed for you.

PumpkinMan Kit $58 Add to Cart

PumpkinMan Finished $125 No longer availablefinished
Extra Styrofoam Pre-shaped Balls (2 sets) $4.50 Add to Cart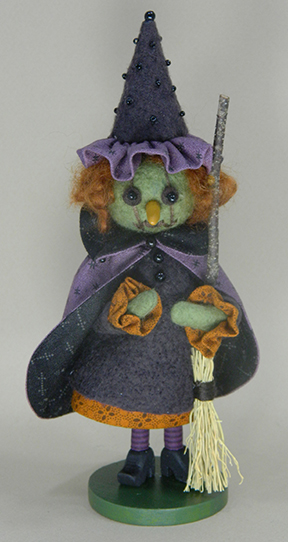 HALLOWEEN WITCH - A charming companion to the 6-1/2" Pumpkin Man, a cotton batting figure from 2013. Complete with her wooden high heels, striped stockings, reversible cape and broom and pumpkin colored mohair locks.

Kits for the Pumpkin Witch (super easy kit) $58 Add to Cart
Extra styro head form & wood parts (body, shoes, legs, nose, connector dowels) $24 Add to Cart

Witch Finished $135 No longer availablefinished
THE HALLOWEEN CAT (6-1/2" tall from tip of hat) - new to my other Halloween characters shown above. Kits and Finished are offered. Everything needed in the simple to make kits, some minimal sewing needed.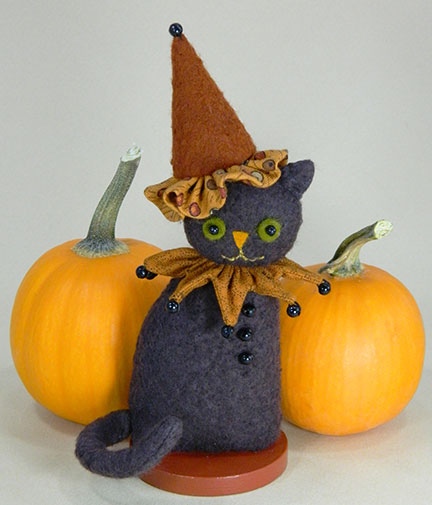 Halloween Cat Cotton Batting Character Kit $58 Add to Cart 

Halloween Cat Finished $98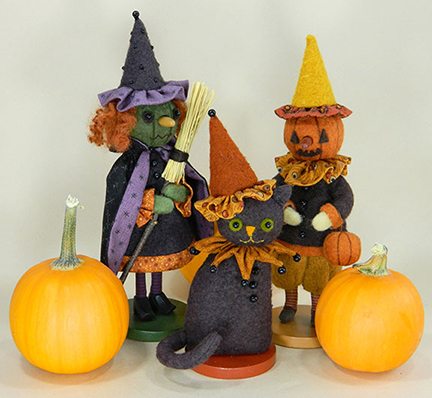 What a group.