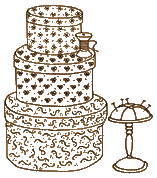 STACK OF THREE COVERED BOXES
As I have been trying to make my in-the-house workshop more of a room instead of a mess, attractive storage has been a challenge. Since I love fabrics and find displaying them in plain sight a pleasure, I began covering everything from these stacks of boxes to all of the many notebooks and binders of designs and patterns. The results are quite pleasing. And so, here are some of these things for you. Store sewing supplies or art supplies in them or just look at them. These are not only carefully covered on the outside, but lined as well. Sizes are 8",9" and 10". Fabrics are choice vintage style prints from the Civil War Era.
PATTERN #107-B Learn how to cover boxes of all shapes with your favorite fabrics. Stacking boxes, a sewing box, rectangular, magazine holder boxes. How to line them and then label them. Suggestions for where to find good boxes are included. $9.50 Add to Cart
PATTERN #107-B PDF Purchase as a PDF you print yourself (save with no shipping). $9.50 Add to Cart

Finished Stack of Covered Boxes no longer available.