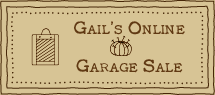 NOTE: Unless noted, all prices shown here on the Garage Sale are the sale prices that will show up in your shopping cart. No further discounts will be applied to items on this page.


ALL OF THE HALLOWEEN ITEMS BELOW ARE STILL AVAILABLE IN VERY LIMITED QUANTITIES LEFTOVER FROM THE HALLOWEEN SALE.

HALLOWEEN COTTON BATTING KITS ON SALE - half price:

The PumpkinMan and a Snowman were cotton batting characters originally taught at two workshops at the R John Wright Convention. More followed. Kits are easy to make - the whole process is mostly gluing (a tiny bit of easy sewing). All cotton battings are pre-hand dyed for you. PumpkinMan shown at right, the Witch shown at left and the Halloween Cat shown center. All 3 kits were $58, now on sale for $29 each.

PumpkinMan Kit Add to Cart
Witch Kit Add to Cart
Halloween Cat Kit Add to Cart (one left)

THE HALLOWEEN CAT AND THE BAT GIRL
Two more Tiny Dolls in the holiday theme for Halloween, the tiny Cat Girl and the Bat Girl both 3.5" tall, a child dressed up as a Halloween cat complete with ears, a tail and carrying her tiny pumpkin gathering tote and her companion dressed as a bat with bat wings and the tiniest of masks. Prices for both (with stands) is usually $235. On sale for $195 each.
Cat Girl Add to Cart
Bat Girl Add to Cart

BEING DISCONTINUED - LAST ONES AVAILABLE AT SALE PRICE

FROM THE NURSERY RHYME-FAIRY TALE SERIES ~ WEE WILLIE WINKIE


Wee Willie Winkie runs through the town,
Up stairs and down stairs in his night-gown.
Tapping at the window, crying at the lock,
Are the children in their bed, for it's past ten o'clock?

BEING DISCONTINUED - LAST ONES AVAILABLE AT SALE PRICE

This one is my version of Wee Willie Winkie, an old Scottish nursery rhyme much longer in its original form first published in 1841 and sung as a lullaby. My Wee Willie Winkie is the same 3.5" as the other dolls in the Nursery Rhyme Series which began with Little Red Riding Hood. He has curly toed slippers, a knit and tasseled nightcap and a hand-dyed outfit of a tucked gown over bloused pants and carries a tiny wooden lantern. He comes with the wooden stand. $235. On sale for $195. Add to Cart

THE LAST TINY DOLLS IN THE NURSERY RHYME-FAIRY TALE SERIES ~ JACK AND JILL
(A few sets left on sale)

My newest nursery rhyme characters are the well known Jack and Jill. The two-doll set comes on a wooden stand and both are holding a tiny red pail. The inspiration for their clothing was taken from paintings by Kate Greenaway with most of the fabrics and trims specially hand dyed here in my workshop to get the look. Like all the other dolls in this Tiny Doll Series, these too are 3.5" tall. This set, unlike the others, will be limited in number to 24 total.


• Jack and Jill Set with stand regular price is $435. On sale $375 Add to Cart
THE 17" QUILTED SANTA

This painted cloth-faced Santa shows off his quilted and pieced robe on a uniquely constructed body that allows him to stand by himself, through a special technique of weighting his feet. His wonderful presence is created by the layers of clothing and the many fabrics that go into his robe. Easy 4-patch quilt construction is used to create the "fabric" for his robe. A few options are included for accessories as well. This pattern can provide many many looks from vintage country to Victorian by just altering the fabric choices. Included in the Mini Kit are wood soles, bearding, all paints, face stencil, wires for arms, a hard-to-find antiqued belt buckle and instructions for how to make his address book. The pattern only has full instructions and patterns plus the face stencil.

Mini Kit (Includes Patterns and Instructions) Was $78, on sale now for $58 Add to Cart
Pattern and Instructions were $22.00 , on sale for $18 Add to Cart
(Finished Item Not Available)

KIT FOR ALL THE FABRICS - Sale for only 4 available packs
I have assembled a limited edition of all of the fabrics (about 70) necessary to make this santa in the old browns palette that I used. The 60 squares used to make the 4-patch quilt for his robe are from my own stash of many years and all pre-cut, many overdyed, ready to sew. Except for a few accessories, everything is here, including body fabric, lead feet, leather for his belt, fabrics for shoes, stockings, pants, tunic, sack and cap with floss for the tassel. For all other accessories besides fabrics, visit the Just For Santas page. This fabric kit is optional (or you can gather all your own fabrics), but does not include the mini-kit above, so you will need both.
Quilted Santa Fabric Kit was $175.00, on sale for $150 Add to Cart

DOLLMAKING ODDS & ENDS


BUNDLES OF FABRICS ~ These are made up from fabrics chosen for their appropriateness for doll making. Bundles will change from time to time as they become available and will change from time to time so keep checking back to see what is available. Please note that bundles are now located on the DOLLMAKING SUPPLIES tab in the drop down under Basic Dollmaking Fabrics.
Sorry, no new mixed print bundles are available at this time. When things settle down from the pandemic, I do hope to add more. There are some mini bundles still available on the Basic Dollmaking Fabrics page.


OLD KITS WANTED: I will buy back any kits (or the parts listed) that you may never get to make for the following Dolls. All pieces must be untouched (not worked upon). If you have any of these, please take a picture and send it and your information to my email: gailwilsondesigns@gmail.com. Once I agree you have what I am looking for, we can agree on how to pay you and cover shipping. I have many customers who would like these and we will need to make all new kits with the items.
• Springfield Woodens - Joel Ellis or Mason Taylor Styles in either size 12" or 9". Will pay $35. Must have molded heads and all wooden pieces plus metal hands and feet. No other items necessary.
• The 10" Molded Queen Anne - Molded one-piece head and body plus arms and legs minimum, other pieces from the kit appreciated. $35
• The 12" Wooden Queen Anne -Molded head and all wooden pieces minimum, other pieces from the kit appreciated. $35
SPECIALS FOR THE MAKERS OF MY KITS - OLD DISCONTINUED KITS AVAILABLE

o
A continuation of a procrastination project to hoe out the many boxes of parts of discontinued kits and their finished versions mostly for cloth dolls. It is daunting to pick through deciding what can be sold or given away or sadly taken to the dump. These are some of much more to come as I get more time. When partially worked dolls are included, I figure there are those out there who know my work and can make use of.

The kits listed below (between the dotted lines) only have ONE of each available. Each is a complete kit with original materials and all paints have been replaced with fresh. All prices shown will not have further discounts.


Please note that I will be adding to this list more items in time.




TWO NOAH'S ARKS KITS BEING DISCONTINUED

SPECIAL EDITION PULLTOY NOAH'S ARK

This is a favorite revisited from my old discontinued kits. This pulltoy ark set is very small and is a good sized toy for smaller dolls especially the Early American Series or even Hitty, but could be a good toy for any size doll or Santa. Kit has pulltoy ark with wheels, Noah, and 4 sets of animals on small bases plus complete paints and instructions. A pretty easy kit in spite of scale. Ark is about 2 inches long and animals are less than 1/2" tall. Kits were $48.

Kits now discontinued and on sale for $32 Add to Cart


PRINTED DOLL APRONS - There is something so dear about doll aprons, bonnets and shoes. These are aprons popular in the late 1800's which show up on many antique dolls, notably, Izannah Walkers, Springfield Woodens and many others. This is a common design - there were many - that I adapted and now print out in brown on extra fine overdyed batiste (for drape). These are mini-kits to make your own with sewing template, instructions, pre-printed and pre-overdyed (antique white) apron fronts plus lining and button for waistband. Even Hitty has one her size. Lengths are given so you can better gauge the
size your doll might need.

THESE SIZES ARE BEING DISCONTINUED AND ARE NOW HALF PRICE:

• Apron for 7-8" dolls Add to Cart
• 8-9" - THIS SIZE SOLD OUT
• 9-10" Add to Cart
• 12"Add to Cart
• 14" Add to Cart
• 16-18" SOLD OUT

SMALLER SIZES BELOW ARE NOT BEING DISCONTINUED
NOTE: These prices are not sale prices

• Apron for 3" dolls (Tiny Hitty) $12.00 Add to Cart
• Apron for 3.5" dolls $12.00 Add to Cart
•  Apron for 6" dolls (Hitty) $18.00 Add to Cart





MOTHER GOOSE BOOK - A kit to make a small bound book just right for a doll.

Mother Goose first appeared as a storyteller in France in the late 1600's. Since then Mother Goose has become synonomous with nursery rhymes. The easy kit will make a real cloth bound tiny book with 8 pages containing 15 popular nursery rhymes. Book size is 1-3/4" x 2-1/4".
Kit was $21. Now on sale for $15 Add to Cart
Rhymes Included:
Old Mother Goose
Little Bo Peep
Pussy-Cat, Pussy-Cat
Little Boy Blue
Little Jack Horner
Miss Muffet
To Market
There was an Old Woman
Jack and Jill
Humpty Dumpty
Dickery, Dickery Dock
Mary, Mary, Quite Contrary
Early to Bed
Baa, Baa, Black Sheep
A Week of Birthdays

AN OVER ABUNDANCE OF TINY CATS - We have too many of the tiniest printed cats (these are the 1-1/2" ones for Hitty or small vignettes). For as long as the abundance remains these will be on sale from $21 to $12.50 each. Add to Cart

GINNY DOLL PAPERDOLL FOR YOUR DOLLS
This set was originally used as an accessory for the 1950's theme doll representing me in first grade (1956) that I did for UFDC and now is made its own item and number 3 in my doll size paperdoll series.The Set comes in a tiny gift box (pictured is the cover of the tiny box) with Ginny made as a front and back paperdoll mounted on a thin wood silhouette with a painted wooden base to stand on her own.

Tiny envelopes come with them to hold their three outfits which although are meant to be display items with the clothing left uncut, the outfits will fit if cut out.

Regular price $24, on sale for $18 Add to Cart

MOHAIR FOR DOLL HAIR - This is a smooth but not the silky more realistic kind known as "English" mohair and therefore best for cloth dolls.It is slightly woolier than the English, but much easier to work with. You can see it here in auburn on a Basic Doll and it was also used for Lotties and many of my angels.


SPECIAL OFFER - I have a huge supply of the Auburn and Brown roving from the old days of many kits having it included in the kit supplies, and need to clear out some. 5 yard bags $10.95. REDUCED MORE TO $8.95
Auburn Add to Cart
Brown Add to Cart

PINCUSHION KIT SALE ~ half price!

SHAKER STYLE SPINDLE PINCUSHION KIT - This was made from an actual Shaker piece I have in my collection. Designed to be decorative or used as it once was to hold needles, pins & spools of threads. Both kits and finished ones have aged wooden spools with brightly colored flosses wound. A great way to utilize your favorite vintage scrap of cloth on the pincushion - fabric is included with all other materials but you might prefer your own. 6-1/2" tall.
Spindle Pincushion Kit was $78, now $39 Add to Cart


TO SEE MORE PRINTED CATS:

Some clearance Printed Cats used to be here but now all cats are located on the Animals page.


Sizes are:
Tiny - 1.5" tall
Small - 2.5" tall
Medium - 3" tall
Large - 5" tall
All sizes above are sold finished with the Tiny and Small sizes also available as kits.