TINY DOLL NO. FIFTEEN (2016)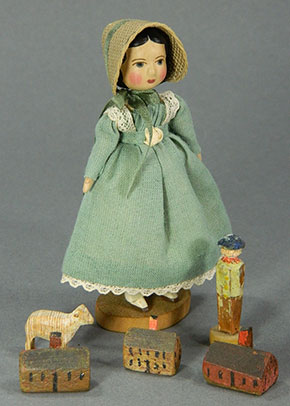 This next ornament doll is an early Peg Wooden dressed in Regency style. She is based on a photo of an antique doll wearing a wonderful straw bonnet. It was challenging to make a straw bonnet so small, but here she is. Bodies are hand sculpted and jointed wood. The tiny stand is recommended.
#15 2016 Tiny Doll $175 Add to Cart
#15 2016 Tiny Doll Ornament - with hanging loop $175 Add to Cart
Stand ordered with doll $9.50 Add to Cart


NEW DOLL (OCT 2016)
TINY DOLL SERIES NO. ONE (Original Version 2004) ~  A previous version of this doll (see photo of her in the images by clicking on the doll drawing at right) was the first doll in the series. But as time wore on, her molds were wearing out, so in July of 2016, I remade her. The style of this doll is taken from primitive or naive paintings of children most with simple hair styles, a similar shorter dress (see a photo of this painting by going to the Tiny Doll page - in the menu under Dolls By Type) with peg leg pantalets showing below and slipper shoes. Note, this is not the new doll for this year. That one is still on the drawing board.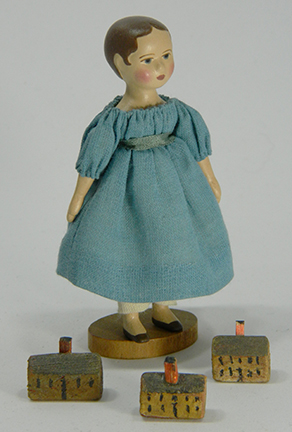 A Tiny Molded Doll Add to Cart
A Tiny Molded Doll with hanging loop Add to Cart
Optional stand if ordered at the same time as doll is 25% off. One stand per doll. $9.50 Add to Cart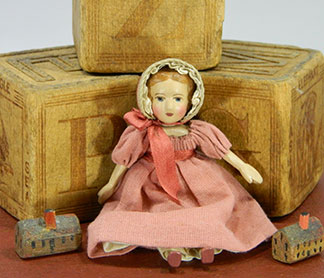 TINY COMPANION DOLL
FROM ELIZABETH LTD ED SET
This diminutive peg wooden accessory was made for the limited edtion 9" Elizabeth, a doll inspired by the illustrations of Kate Greenaway. After finishing all 25 in the edition, there ended up with one extra of this 3" companion doll. I included the one in a recent sale but so many people wanted her, I decided to make her a permanent addition to the Tiny Doll Collection. She does fits in nicely if you are collecting my other tiny dolls. Her ensemble includes a period dress, slip and pantalets, a lace ruffled straw bonnet tied with silk ribbon and painted pink slippers. $175 Add to Cart
Stand ordered with doll $9.50 Add to Cart

SPECIAL EDITION IZANNAH WALKER WITH WARDROBE, ACCESSORIES AND CLOTH COVERED STORAGE BOX ~ A CLUB

In late March I am planning a new very special club. Several years ago, I took orders for a 13" Izannah with a small wardrobe and a carry case for all. But like a few other projects (notably my large furnished doll house and the Early American Doll Series as first conceived as one whole unit), the old math axiom - the whole is equal to the sum of its parts - did not hold true. With such a limited "staff" it is almost impossible to fit in really large projects. Another large obstacle was finding just the right group of fabrics that "worked" together but were only related in certain ways but were also the right scale and drape. What began to happen as I did start to design all the pieces and collect some of the fabrics, was that with the largess of the internet, more and more study material came my way causing me to expand the number of items to include with this doll. And over time as I painted many many Izannahs in several sizes, I also wanted to improve the doll herself. So this is where I met neverland. I felt I needed to cancel the idea and the several orders people placed - the project was simply too big to do and still make ends meet in between. Yes, there is still that. Then I remembered my clubs. Why not? This makes it work. The idea is I need about 12 people (including the ones I already have) to be part of this club. There will be a 12-13" doll, many outfits typical of those seen on antique Izannahs and including undies, bonnets, cloak, shoes, many accessories and a special cloth covered box or trunk to hold it all. This is still not quite fleshed out, but initial ideas have about 10-12 shipments at about $175 each with an initial deposit held to the end. If you are interested in this wonderful set through a club, please use the link to let me know. No money will be taken yet until you have received more definite information.
Add to Cart if Interested

LOUISA LTD ED SET of 9" LOUISA AND HER 3" GREINER DOLL
DUE TO REQUESTS:
EDITION #3 OF LOUISA LTD ED SET (Edition of 12) - A few still available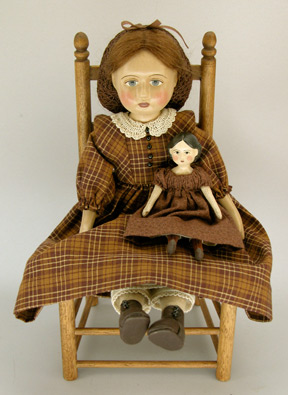 This 9" doll is Louisa and this is her story . . .
"It is 1858 and I have just received my first
store-bought doll."
No other doll has received so many requests long after two runs have sold out. Recently I came upon enough of the brown fabric hidden in a box to do another edition of 12. All will be same except improvement in body construction and better leather shoes.

Set of dolls $645 Add to Cart
Chairs ordered separately $78 Add to Cart

Louisa's Original Description - A 9" papier mache doll with her Greiner doll (a papier mache doll made in this time period by German immigrant, Ludwig Greiner). These were some of the first American made dolls available commercially. Small Greiner has papier mache head and shoulderplate on a tiny painted cloth body with red stockings and even thumbs on her tiny leather-like hands. Louisa has English mohair wig with hand crocheted snood, hand crocheted lace color and other laces, high buttoned leather shoes.