DOLLMAKING ODDS & ENDS


BUNDLES OF FABRICS ~ These are made up from my fabric "library" being given up and sold off in color lots. Bundles will change from time to time as they become available and are made up of leftover fabrics used in my kits and cut up in fat quarters. Sometimes when a nice collection of small prints comes along I buy the collection as a set then sell these bundles. So keep checking from time to time.
No bundles of little prints available at this time.


CHRISTMAS KITS - EVEN MORE SAVINGS
THESE WILL BE THE LAST OF THESE KITS WHEN THE PRESENT STOCK RUNS OUT
All remaining stock is now half off the Sale prices.


The kits listed right here will be an amazing 1/2 off the sale price (yes off the sale price!). To read more about each of these kits go to Dolls by Type in the main menu, then choose Holiday/Christmas. There are links there to buy.

The List of Re-Issued Kits (see more about each one on the Christmas page found in the menu):
Broom Snowman,
Linsey-Woolsey Ange
Treetop Angel
Very Small Angel, Very Small Santas (2)
Primitive Snowman
Set of Angel Ornaments
Primitive Angel
Primitive Santa
Painted Cloth Santa
Painted Cloth Angels (two sizes) in Muslin and Lace
Painted Cloth Angels (two sizes) in Country Colors
Note: Very Small Snowman Kits now sold out.







The Last of These Finished Cotton Batting Pieces Available (Kits will remain available)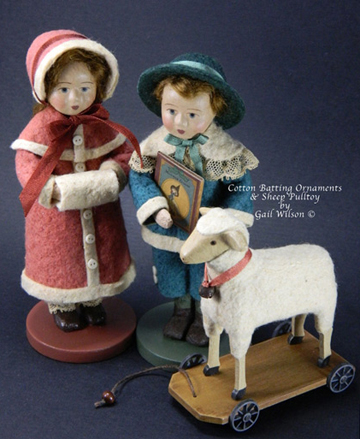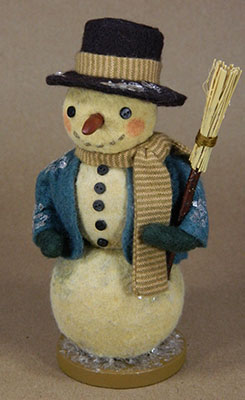 The last few of the Cotton Batting Figures are available while they last. Read more about these by going to the Dolls by Type in the top menu and clicking on Cotton Batting Figures. May be shipped on or by Dec 16.

Finished Sets of Christmas Children $148 per set. ALL SOLD 
Finished Sheep Pulltoy $58 ALL SOLD
Finished SnowMan $78 Add to Cart Three Left
Finished PumpkinMan $78 Add to Cart Two Left
Finished Witch $78 ALL SOLD







STILL TWO LEFT ON SALE:

NEW TINY DOLL NUMBER 1 - A previous version of this doll (see photo of her in the images by clicking on the doll drawing at right) was the first doll in the series. But as time wore on, her molds were wearing out, so in July of 2016, I remade her. The style of this doll is taken from primitive or naive paintings of children most with simple hair styles, a similar shorter dress (see a photo of this painting by clicking on the doll drawing at right) with peg leg pantalets showing below and slipper shoes. $165 A Tiny Molded Doll Add to Cart







RIBBON SETS

I am no longer going to stock these boxes of rayon ribbons, so all stock is on sale until gone. These are the jewel tones I love and many of you will recognize the ribbon as I use it in much of my packaging for shipping. Plus it makes a great rosette for doll's finishing touches by gathering up a small length. 12 colors each 5 yds in the gift box shown original price was $24.
Ribbon Sets on sale for $18 Add to Cart

HELP WANTED ADS:

A GOOD KNITTER to knit about a dozen 2-1/2" long striped stockings for my Santas. I have a pattern. These are knitted on 3 dbl needles using embroidery floss. If this scale doesn't scare you, please email me.

A REALLY CAREFUL MACHINE AND HAND STITCHER to sew up and stuff doll bodies, some with stitched fingers. Sizes range from 3" to 18". I supply fabrics, threads, stuffing and help to polish your style if you are there or almost there.

X-STITCHER to work in miniature on printed patterns, not counted X-Stitch.

Email: gailwilsondesigns@gmail.com