PLEASE NOTE - Shipping times for finished Hittys are usually 2-3 weeks. If you have an unusual rush request, please call - it is possible it can be accomodated.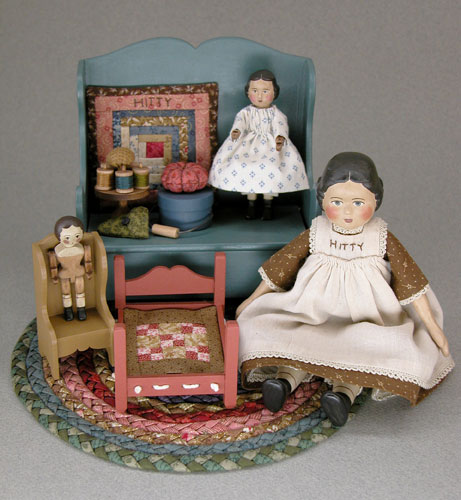 The Original GW Hitty and Her Tiny Hitty

WHICH HITTY STYLE?
I make two styles of Hitty dolls to choose from. All of my Hittys are 6-1/2" tall and are all individually made and signed by me. They may be ordered in several options.
(1) BASIC HITTY with cloth body and molded papier mache head, arms and legs. This Hitty is the style I began with and which is most popular with my customers. Her cloth body makes her easy to dress and hold and her molded limbs give her a nice weight and feel in your hand.


(2) WOODEN HITTY (& HER FRIENDS) have carved wooden bodies and jointed carved wooden limbs with papier mache molded heads. For those who prefer Hitty to be wooden like the Real Hitty, this style is most like the Real Hitty while still maintaining my own doll style and look. My new revised wooden Hittys (and Friends) are able to stand alone.
Once you choose the style of the Hitty you want, you then choose whether she will come undressed for you to dress or come with patterns to make clothes or she can be dressed from the options listed.